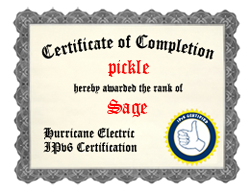 It's taken its sweet time getting here, but IPv6 is quickly becoming not only a reality, but a technical necessity. After debates at work with the network administrators over whether it's really needed (they don't think so), I figured it's time to take my own (little) stand on the Internet and prove it's not the scary step into the big unknown that people think it is.
My involvement with IPv6 goes back to 2002, after participating in the experimental 6bone network. As ISPs are still very slow to take up IPv6 support, I've ran a dual-stack IPv6 network with Internet connectivity through the free Hurricane Electric Tunnel Broker service on and off since. For those of you not willing to play too much, an alternative has popped up known as Teredo which essentially does the same thing, and support is built into Windows Vista (or you can do it under Linux using Miredo, which has proven to work well on our proxy servers at work).
But this isn't enough.
Continue reading "IPv6 is coming"